Digital printing and litho printing in w1 and sw1 london.
We offer
digital
printing,litho
printing
, photocopying and graphic design services in W1 and SW1,
,London.
.
our services include digital printing,
litho
printing, thermographic printing, poster/banner/flyer printing, copying, document creation,graphic design and exhibition graphics.
First Colour has been established for almost 10 years and in that time we are proud to have built a solid and dependable
business
with around 1000 active customers and 18 skilled staff.
We are unusual in that we cover both the traditional press ?litho? printing sector as well as being one of Central London?s foremost digital print operations. But above all we offer a great service at competitive prices.
Our continued investment into staff and equipment has enabled us to become one of Central London?s most popular and capable business printers. Our determination to do whatever it takes to deliver your work on time, on spec and on budget remains as strong as the day we started, and we pride ourselves on the working relationships we?ve built with our clients.
To know more details, get in touch with us at : http://www.firstcolour.com/
Advertisement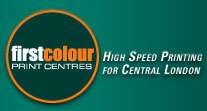 Digital printing and litho printing in w1 and sw1 london.
Advertisement