Bushnell 2x40 Equinox Z Digital Night Vision Binoculars:
Bushnell 2x40 Equinox Z Digital Night Vision Binocular is suitable for both day and night vision with a feature of digital night vision sensor that is completely resistant to bright light and has an unlimited lifetime. Its right side objective is used for providing a single optical path for bi- ocular viewing while the left side aperture works as a built-in illuminator. With 2x magnification it keeps image jitter low when you use this night vision as handheld device. This binocular offers 40mm large sized objective lens that gathers more light and delivers sharp brighter images and videos even at low light conditions. The infrared light ensures you visibility of target if it was ambient infrared from the moon and the star doesn't provide enough illumination. The menu buttons are arranged within easy reach of your fingertips and offer functions like a power on-off, a coarse digital focus, an infrared illuminator on-off and an infrared brightness control. Its rubber armoured coated protect it from any damage, slip-resistant and gives an extra protection against any shock. The binoculars are supplied with a rubberize eye caps to provide a comfortable contact with eyes and a wide neck strap. The center focus wheel gives an observer an ultra smooth and accurate focusing image. For long observation it can be mounted on tripod with the help of adapter.
Advertisement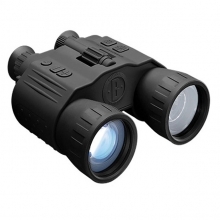 Bushnell binoculars,,..
Advertisement

Write review
Leave your comments on this ad
Offensive messages and spam will be removed
Related ads