Have you ever experienced the power of sound on a vibrational level?
Did you know that the monosyllabic sound AUM, recited in group can lead to deep silence, awareness and connect you to the unexplored reservoir of soul power?
AUM vibration is life-transforming when practised with austerity; is the bridge between one?s inner self to one?s outer self; deepens silence after reciting it for 108 times; is mystically healing.
Think of the last time you felt at peace with yourself when you heard the warbles of birds; or the luscious sound of the waves gently hitting the seashore?Well if you felt good about the vibrations of nature, just imagine how powerful the AUM technique is.
AUM recitation is a profound technique which will harness an echo of intense peace and expansion of consciousness leading to deep
meditation
.
Meditation is undoubtedly the key to reach poise of mind; the key to develop awareness; the key to cultivate inner joy.
Come and join us to recite AUM together and also experience the benefits of this technique.
Change on an individual level will engender change on a collective level. Start your journey towards inner peace with us and learn the AUM meditation technique.
Venue: Covent Garden Dragon Hall Trust
17 Stukeley Street
London
WC2B 5LT
Date:
saturday
23
june
2012
Time: 4.00 pm to 5.30 pm
Price £5 with all proceeds to charity
Call us now on 0758 313 9374 and book your place today or online via www.aum.eventbrite.co.uk/
Write review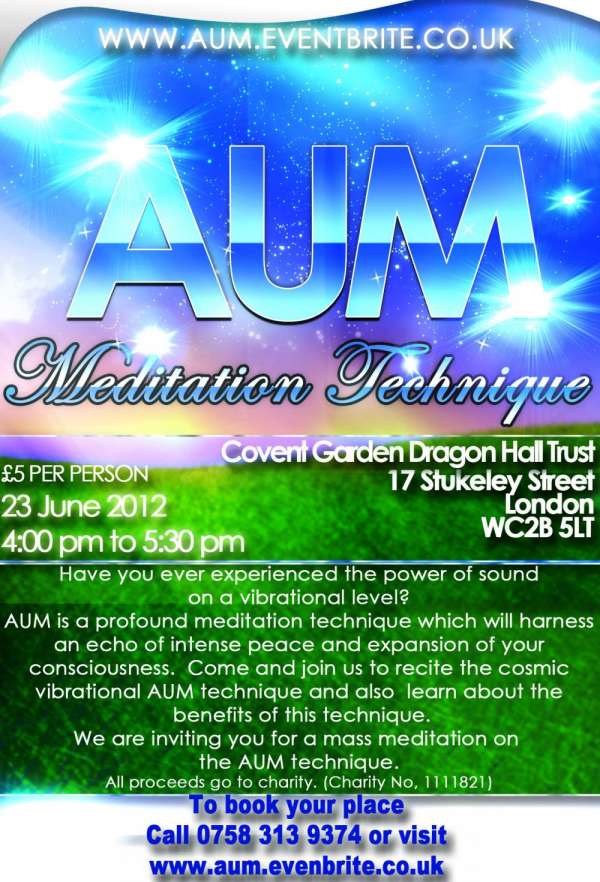 Aum meditation saturday 23 june (holborn)
Write review
Leave your comments on this ad
Offensive messages and spam will be removed
Related ads